Mind, Body Spirit Retreat - planning for Autumn 2017
This is 5 days away from the everyday 'stuff' in the beautiful Andalucía hills in Southern Spain. Time to just 'be'. Time to have a complete rest, refocus, re-balance, explore 'what's next?' for yourself. Will include daily yoga, mindfulness, group coaching session, fabulous healthy food & more. Molino del Rey has been featured by the BBC, Vogue and rated one of the best yoga retreats by The Times. It's truly magical!
Posted in Retreats
Coaches - 19 ICF CCEUs (Continuing Coach Education Units) tbc

Mind, Body, Spirit Restreat, Sunday - Saturday
What exactly is a retreat? Quiet time away from your normal life for the purpose of restoring balance in your mind and body.
This restorative retreat in the beautiful Andalucia hills in Southern Spain is a unique opportunity to spend time in a truly delightful location. Take a look at www.molinodelrey.com for many more photos and venue information. Here is information on the 5 days;
'I came back feeling more relaxed than I have done in decades, noticably more flexible, a deep sense of warmth & support' - Morag Thompson Aug 2015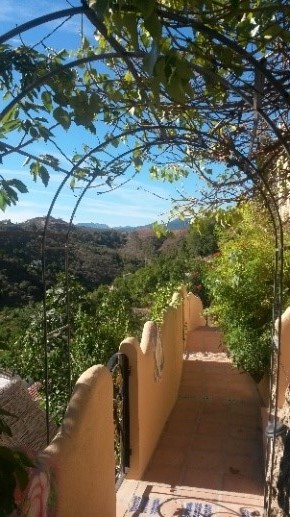 'The oasis of serenity is with me 2 weeks later, totally unexpected but very welcome' - Louise Moule 2014
This is 5 complete days for you to step away from the everyday 'stuff' and just 'be'. Time to have a complete rest, refocus, re-balance. Maybe explore 'what's next?' for yourself. There will not be lots of input sessions rather quiet time and the option to experience the following;
daily Meditation and/or mindfulness
daily group Coaching session
daily Yoga (with Meg- see below)
Beautiful and quiet areas for personal reflection
A truly wonderful and inspiring venue
fabulous fresh vegetarian food
creative painting (solo or with Jess - see below)
walking
one to one coaching (extra charge)
Wonderfully restorative & individual focussed massages (extra charge)
'Total relaxation. The retreat itself is beautiful-so imaginitively designed that it's almost miraculous! I loved the very creative & delicious veggie food, lots of yoga & mindfulness, nice like-minded people, and I enjoyed our trips out for horse riding in the mountains and to see the amazing old town of Rhonda too. The menu of gorgeous massages was the icing on the cake!' - M. Warrick Aug 2015
'Difficult to say what I enjoyed the most as there was so much. The yoga sessions were superb, I really enjoyed the mindfulness sessions including, of course the session in the pool. The structure of the day was great - time together but also time to do whatever you wished. Loved the nooks and crannies, the time to just relax quietly. Food superb, as was the company' – Anonymous 2015.
'I felt restored & refreshed; helpful personal reflection time' - A. Painter 2015.
'I didn't have any complicated reasons for coming-just some time out and time to relax-and I came back suitably refreshed and very relaxed' - J. Gaunt Aug 2015
'The venue – beautiful terraces with lots of quiet space & places, pool, outstanding veg food, yoga respecting my own pace; daily themes. I appreciated how well organised it was and the list of what to bring' - Anne 2015
'My takeaways? The peacefulness, the memories, the stories, the little tips and thoughts. A recharge before work, before winter. Now back in the real world, I often think back to our sessions and reflect' - Anonymous, Wales.
Who would value this retreat?
Professionals, leaders wondering 'what's next'
Coaches wanting to take their business to the next level
Those wanting a rest, time for themselves
Anyone wanting a different experience of time away
What will you gain from this retreat?
Feeling of being restored physically, emotionally, spiritually
the benefits of journalling, creative activities
Yoga, mindfulness techniques
Coaches - refresher on ICF competencies & how to use within your own development
What's the cost per person?
I have really tried to keep costs as low as possible;
Accommodation & food; 510 Euros (based on sharing a twin bedded room), 660 Euros (single if available). A deluxe double is available for 1140 Euros per couple.
Retreat £350 including transportation to/from Molino (ICF member £315 or early bird before end Jan)
Return flights to Malaga (arranged yourself).
Not included: Taxi (approx 120 Euros) if arriving/travelling at a different time, else car hire (if required), holiday insurance.
Optional extra costs: wine and soft drinks (honesty box), massages, one to one coaching, any additional trips.
If you would love to join this magical retreat...
Please call or email me with any questions.
If you are interested then let me know together with what you hope to gain from the retreat. I will send you a booking form and hold a place for you whilst you confirm your flights. Aim to arrive in Malaga around lunchtime or latest early afternoon so we can share a minibus. Departure flight early afternoon on the Sunday else you can spend a day in Malaga & fly back sunday evening.
To confirm your place, return booking form with £150 deposit per person (remainder £165 or £200 is due 8 weeks beforehand, accommodation charge due on arrival). You're in!
Make sure you have holiday insurance.
I would be absolutely delighted to have you with me in Andalucía next August.
Yoga with Meg
Meg began her yoga journey in her early 20s. Through extensive travel to Europe, Borneo, America, Australia, New Zealand and South East Asia she deepened her spiritual practise. She studied at Santosha Yoga school in Bali and teaches yoga in Sussex & Surrey, sharing her knowledge of practise with others.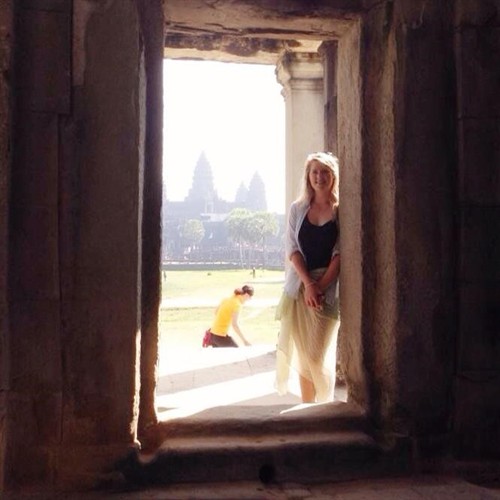 Meg's yoga is about well-being. She believes a strong body, clear mind and open heart are a way to living a balanced and rewarding life. Meg has a wonderful energy & presence as a yoga teacher. She brings elements of all varieties of yoga but her focus style is Vinyasa flow. She welcomes all ages & abilities and will help you find your own personal practise.
'Yoga is not about self-improvement it's about self-acceptance'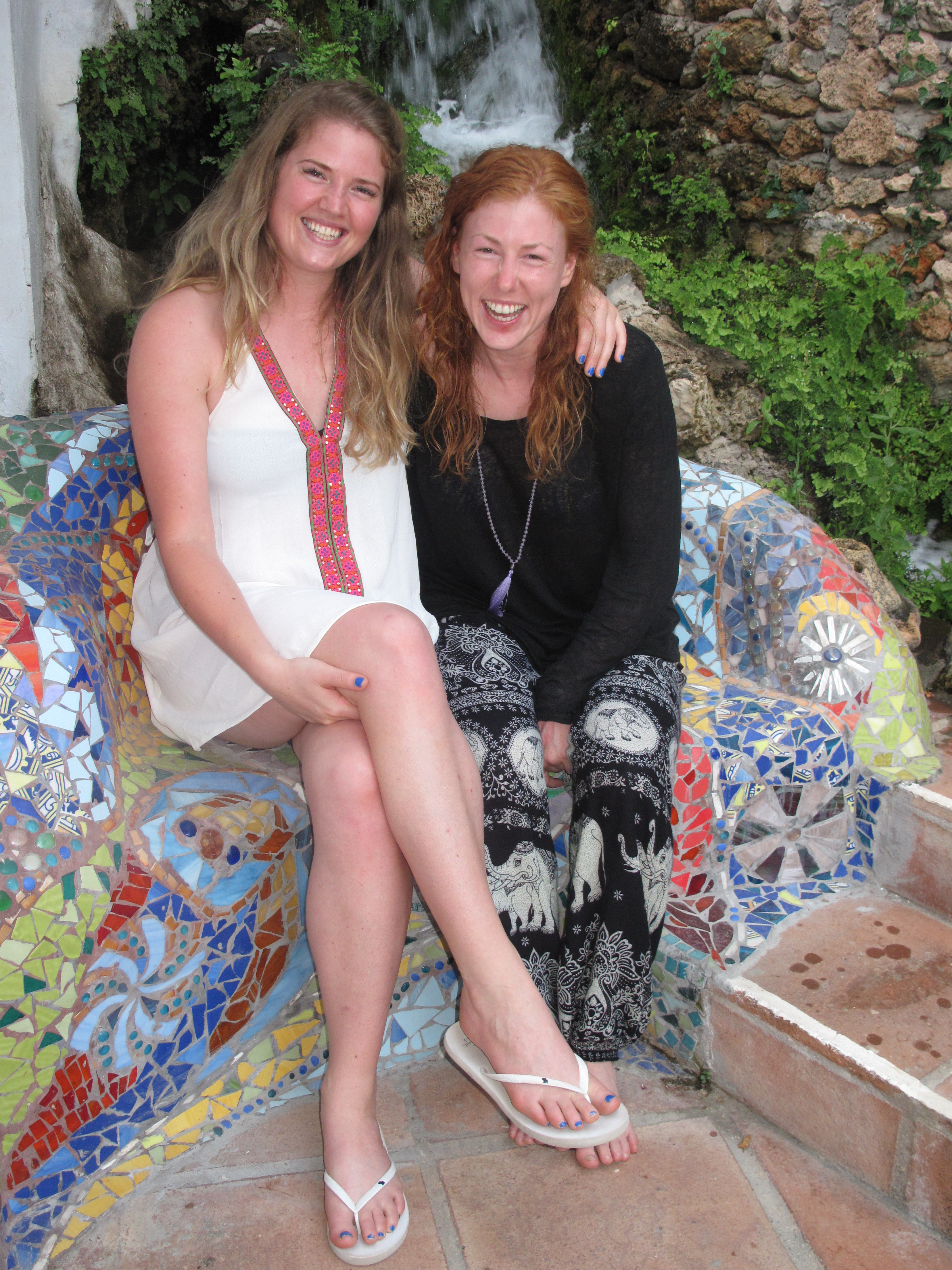 Jess - creativity & reflexology
Jess has a BA in Textile Design from Falmouth University, where even as a student, she sold designs to Rug & Co, supplier to John Lewis. Jess did embroidery and embellishment for a top London based bridal designer, then worked for an iconic designer in Sydney before spending time travelling extensively in Asia and Australasia, keeping an evocative painted travel journal wherever she went.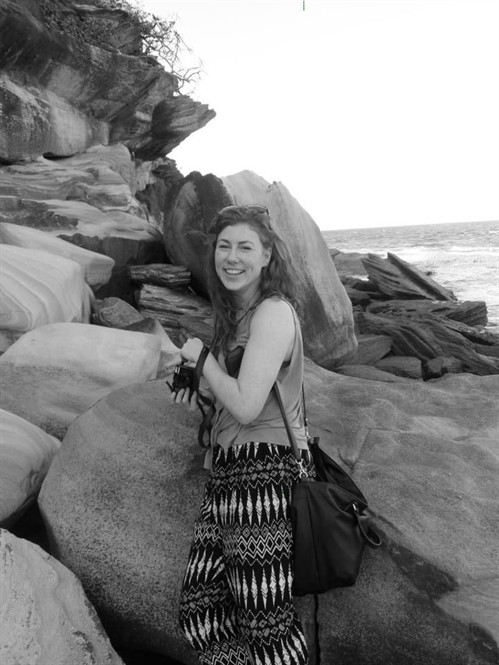 Jess is passionate about helping others and has been developing her skills and experience ahead of an MA in Arts Therapy. Her approach is relaxed and informal. She is naturally creative, a strong listener with an ability to make everyone feel at ease so they can express themselves in a fun and supportive environment.
Having just completed reflexology training, Jess is offering treatments at a much reduced rate during this retreat.
Jess has just completed her training in reflexology so she is offering treatments at a reduced rate.